Today I welcome Shari–Dusty Earth Mother–for the Never True Tales Won't You Be My Neighbor series. I found Dusty last year (way back when she was still on blogspot and I was on WordPress.com) and quickly started laughing out loud at her adventures in childrearing. Then we met face to face at the BlogHer Conference and helped each other find yogurt, cookies, and TweetDeck. Here we are, one fall and one winter later, still blog neighbors, despite our fancy new abodes. I'm sure you will enjoy her as much as I do.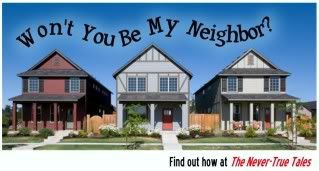 Spilling It (My Secrets, Not My Starbucks)
By Dusty Earth Mother
I'll be honest with you. I'm not sure I have any secrets left to spill.
I mean, come on, last week I confessed on my blog that I was on my way to a children's play with my kids, my son threw up in the car and when I went to get my emergency bag of clothes in the trunk, I discovered that they were stiff and crusted with vomit from the last time he threw up (apparently someone had just stuck them back in the bag—I have no idea who that someone could be. N.o. i.d.e.a. I. t.e.l.l. y.o.u.)
Then I confessed that I put the dried-vomit clothes on him and took him into the play.
Seriously, does it seem like I keep any secrets from you?
Not convinced?
How about this?
Yesterday I was rushing to get to an afternoon birthday tea for a friend. I grabbed my jeggings (and the fact that I admit that I wear jeggings should be enough to let you know that I'm open about my failings) out of the laundry basket and slid them onto my no-business-wearing-jeggings body.
(By the way, this was the CLEAN LAUNDRY basket, stuff that I had separated and folded, but had not yet made it into drawers. And by CLEAN LAUNDRY, I mean only a trace amount of dried vomit.)
As I sat at the tea, I noticed something peculiar on my thigh. I surreptitiously felt myself up and there was a definite lump under my jeggings.
Sock, I surmised. But not on the foot. On the thigh. A balled-up sock, apparently static-clung to the inside of my jeggings.
So much for my CLEAN LAUNDRY-separating-and-folding skills.
I chuckled and confessed to my friends about my thigh-sock (I told you I'm open about my failings), and promptly forgot about it.
When I got home, I remembered to retrieve the thigh-sock. I unzipped my jeggings, reached in and grabbed the sock and pulled it out.
And kept pulling.
And pulling.
And pulling.
It was not a sock. It was a pair of tights.
A thick pair of winter tights, balled-up and static-clung to the inside of my jeggings.
Now try to imagine what my silhouette looked like with that much extra material stuffed into my already-overstuffed skin-tight pants.
Not a pretty mental image, is it?
And so, my friends (and by FRIENDS, I mean you who are still willing to socialize with someone who keeps vomit-covered clothes in her car and displays her extra-lumpy butt in a fancy tea-house), you now know that I keep no secrets from you.
I don't need to spill it.
It's been spilt.
If you want to learn more about Dusty Earth Mother, click here. If you want to participate in or read the Won't You Be My Neighbor series, click here.